In the recent events of Covid-19 Aresco was forced to change our business model. We prided ourselves on getting up and coming to work everyday. Since Covid became the new reality, we pride ourselves on getting up and arriving to work remotely on some-days.

Since we were working from home, we quickly realized that we needed new printers in our homes that could meet the demands of normal business life. Aresco took a look at our product-line and determined that the Epson SuperTank 4000 was going to be the printer of choice. We needed something compact, cost effective, efficient, and stable that could meet the demands we required. The SuperTank 4000 can copy, print and scan.

We learned a lot about the SuperTank 4000 once we installed it. When I installed mine, I noticed... It fit nicely on a shelf in my computer desk, all user operations was located in the front. It had the ability to print quickly via wifi and installing the drivers was a breeze.

I was pleasantly surprised by how well it duplex-ed, and impressed by the print quality too. The speed was faster than I thought too. It does approx 15 pages in black in white, and 8 in color per min. This printer doubled as an excellent school printer too. Some of us have children at home, and this has been a life saver when it comes to printing things out for their assignments. We occasionally had to create a project and scan it in to the teachers. It worked very well.

It comes with TWO years of ink out of the box. I couldn't believe the amount of ink the machine came with. The days of going to the big box store, and buying a $38.00 tiny cartridge that is almost empty was done. The printer has clear windows on the front of it so you can see the ink levels in real time.

This machine's most attractive feature is its under 1-cent running costs for both monochrome (0.3 cents) and color (0.9) pages. Only Canon's MegaTank products, including the G4210, can match these numbers. Epson includes enough ink in the box to print up to 14,000 black pages or 11,200 color pages, which, if you print about 580 monochrome pages or 480 color pages per month, should last you about two years. (Coincidentally, that's the length of the machine's warranty, if you register it.)

Two year Warranty, and Two years of ink. Can't beat that.

We were so happy with this printer we ran a summer sale on it, and we are starting to tell everyone the story. If you need an 8.5x11 MFP... this SuperTank 4000 is the only answer.

I understand on the Epson website they have it listed for $499.00. That is a bit expensive for a desktop, but it is worth every penny of it. Also, as a dealer, we sell the printer about $100.00 less than Epson direct.

In conclusion, it is a great product and time will tell how long it will survive in our houses. We know for two years for sure, and if you do the math on that.. it only comes out to 16.00 month to own this printer. If you break the cost of ownership down even more... its .53 cents a day for 2 years.

https://epson.com/For-Work/Printers/Inkjet/WorkFor...
If you would like to know any more information about it... Please contact us.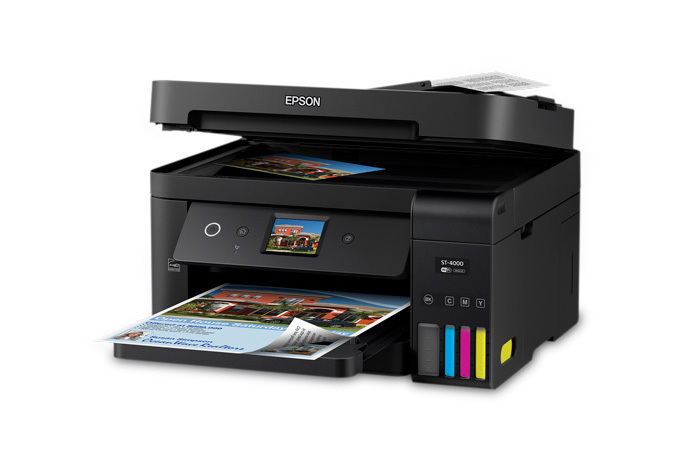 WorkForce ST-4000
Manufacturer Part Number: C11CG19202
Specifications Summary:
Functions Print, Copy, Scan, Fax

Speed 15/8 ISO Page Per Minute (Print), 11/6 ISO Page Per Minute (Copy)

Max Monthly Duty Cycle 5,000 Pages Max Resolution 4800 x 1200 optimized dpi

Standard Paper Supply 250 Sheet Drawer

Max Paper Size up to 8.5" x 14", up to 47" banner size

Max Paper Weight N/A

Duplexing Standard

Network Connectivity Standard: 10BaseT/100BaseTX Ethernet, Wireless LAN IEEE (802.11 b/g/n), Wi-Fi Direct, Hi-Speed USB PDL Epson ESC/P-R
Recent Posts
With all the new hype and excitement surrounding the new Canon TZ 30000, Canon decided to put it to …

PRM-30-21March 16, 2021To: Canon U.S.A., Inc. Premier Partner ResellersSubject: Announcement of the …

March 12, 2021Dear Valued Customer,Due to the continued tightening of the uncoated free sheet market …